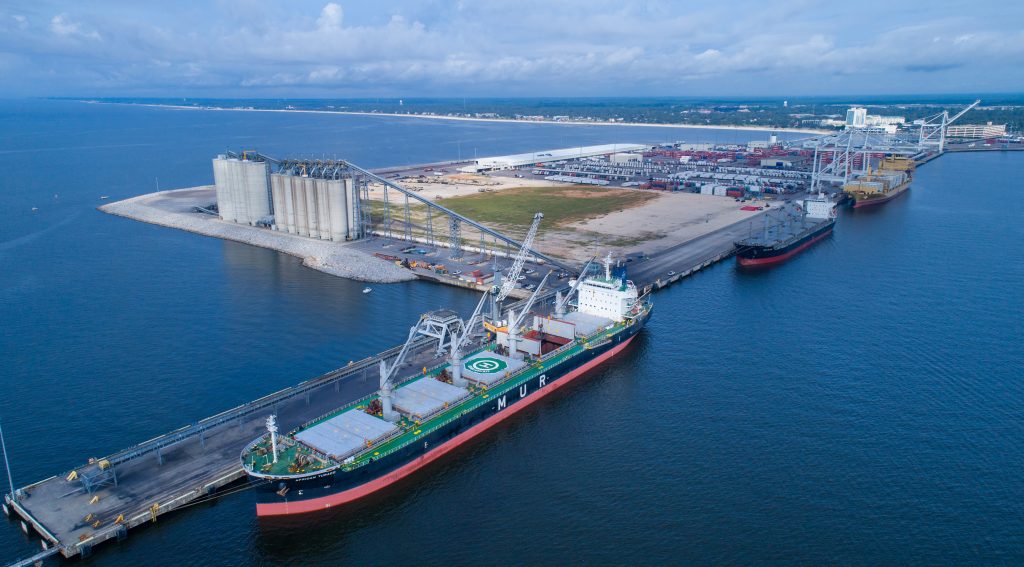 Mississippi State Port Authority Enters Into Operating Agreement with Ports America
March 23, 2023
FOR IMMEDIATE RELEASE
Gulfport, Mississippi
The Mississippi State Port Authority has entered into a long-term lease and operating agreement with Ports America, the largest terminal operator and stevedore in the United States. The Port of Gulfport and Ports America have a long-standing relationship, with Ports America acting as a licensed stevedore at the Port since 2006.
In September of 2022, the Port of Gulfport and Ports America entered into a Letter of Intent outlining their mutual intent to work together to increase commerce at the Port of Gulfport. Based on that Letter of Intent, the resulting lease and operating agreement includes a twenty-year term with the option for two additional ten-year terms available to Ports America.
One major feature of the deal is a $43 million investment from Ports America to develop the vacant Terminal 4 at the Port into a cargo-handling terminal. This includes a new ship-to-shore crane and surface improvements. This investment is in addition to Ports America's recent acquisition of new cargo-handling equipment from Mississippi-based manufacturers.
Ports America's investment in the infrastructure and development of the Port of Gulfport, specifically Terminal 4, will drive an economic boost to the area. The addition of new business at the Port of Gulfport is expected to result in more longshoreman hours for the local ILA, an increase in throughput for the Port, and new job opportunities for the community. The partnership should also result in increased ship traffic and provide a basis for the Port's ongoing project to deepen and widen the channel.
"We're very excited to build on our existing relationship with Ports America. We have so many strategic advantages here at the Port of Gulfport, and this partnership will develop 38 acres of currently vacant land in Terminal 4, allowing for full utilization of the asset. I look forward to continuing to work with Ports America to drive business and create jobs here on our Gulf Coast," said Jon Nass, CEO & Executive Director of the Port of Gulfport.
"Ports America is pleased to strengthen our partnership with the Port of Gulfport and reinforce our contributions to Mississippi's economic prosperity, where we've been proudly operating since the 1960s. Our investments into Gulfport will allow the Port to meet its growing demands for infrastructure development, grow its status as a crucial marine terminal transportation hub that provides high-paying jobs for the state of Mississippi, and continue the parties' long-standing commitment to their respective employees, the ILA, and the community," added Matthew Leech, President & CEO of Ports America.
The terms of this agreement will become effective following Commission approval on March 23, 2023.
##