COMMITTED TO A DYNAMIC AND DIVERSE WATERFRONT
ABOUT THE PORT OF GULFPORT
The Mississippi State Port Authority is an Enterprise Agency of the State of Mississippi and is responsible for the daily operations of the Port of Gulfport. Established in 1902, the Port of Gulfport is a bulk, break-bulk, and container seaport that encompasses a 300-acre deep-water port and a 116-acre inland port facility.
0 mi.
16 MILES FROM INTERNATIONAL SHIPPING
0 mi.
5 NAUTICAL MILES FROM THE INTRACOASTAL WATERWAY
0 hr.
INTERNATIONAL WATERS WITHIN 1 HOUR OF
The Port of Gulfport is strategically located on the Gulf of Mexico, just 16 miles from international shipping lanes and five nautical miles from the Gulf Intracoastal Waterway. The Port's location enables ships to access international waters within one hour of sailing from Gulfport Harbor.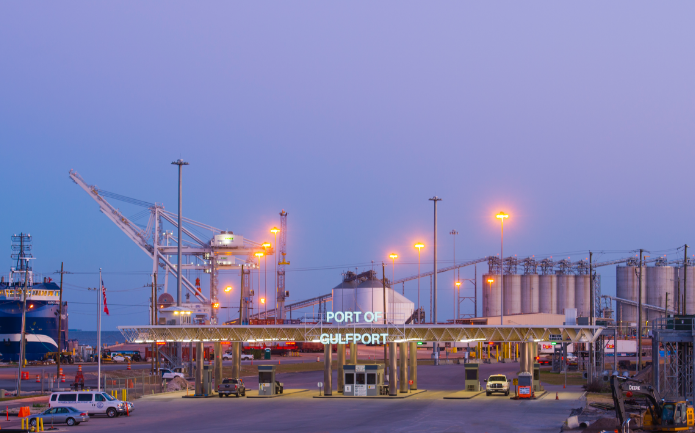 PORT FACTS
The Port of Gulfport's business development and diversification efforts have made significant strides toward the goal of positioning the Port of Gulfport as an important economic catalyst for the surrounding community and region.
In addition to traditional maritime commerce operations, the Port of Gulfport worked to leverage the presence of multiple military installations throughout South Mississippi into additional throughput opportunities by pursuing a United States Department of Defense Strategic Seaport Designation. In November 2015, the Port was notified of its designation as a Strategic Seaport, and America's military would now be able to utilize the Port of Gulfport for cargo and equipment shipments.
INLAND LOGISTICS
The Port of Gulfport offers significant logistical reach across the United States, with a distribution and receiving network that extends as far north as Chicago, east to Charleston, S.C., and west to El Paso, TX.
TRUCKING
The Port has direct access to State Highway 49 and is only 10 minutes from U.S. Interstate 10. Due to the Port's centralized location, trucks can easily distribute products to 75% of the U.S. market within 24 hours.
RAIL
Class I rail service with high-speed, double stack capability is provided by Kansas City Southern Railway Company (KCS). CSX Corporation can access the Port via KCS's line. The Port also offers convenient access to inland locations adjacent to the Mississippi River.
EXECUTIVE TEAM
JON NASS
CEO and Executive Director
MATTHEW WYPYSKI
COO & Deputy Executive Director
COMMUNITY ENGAGEMENT
As one of the state's most important economic engines, the ultimate goal of the Port of Gulfport is to improve the quality of life for all who reside and do business in the surrounding community and region. Ongoing community engagement, education and relationship-building efforts are vital to ensuring that all stakeholders are fully invested in the Port's success and understand the role that the Port plays in helping the community grow, thrive and prosper. The Port of Gulfport is proudly committed to supporting community events and school programs and raising public awareness about port operations.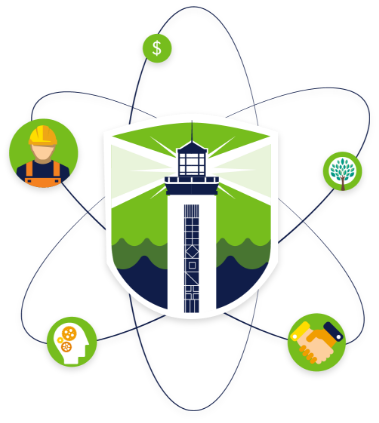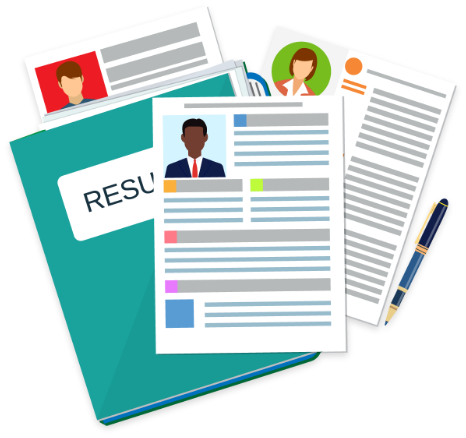 EDUCATIONAL INITIATIVES
The Port of Gulfport's main goal is to provide world-class service to our customers while also creating excellent jobs for the people of Mississippi. Through our External Affairs department, the Port supports programs that will provide resources for quality training opportunities, job placement opportunities, pre-apprenticeship programs, and other education and career development services.
As part of the Pathways to the Port workforce development initiative, the Port has developed a strong and vibrant partnership with nonprofit organizations and area economic workforce development agencies. Organizations we are currently partnering with include Mississippi Development Authority (MDA), Mississippi Department of Employment Security (MDES), NAACP Gulfport and Biloxi, South Mississippi Planning & Development District (SMPDDD), BackBay Mission, Catholic Charities, JobCorps, and CLIMB CDC.
We have also developed a strong relationship with Gulfport schools, specifically Gulfport High School's Academic Institutes. Through work-based learning opportunities, students have the opportunity to get an up-close look at the inner workings of the Port of Gulfport and interact with the various entities that support the Port's operations on a daily basis.
ENVIRONMENTAL INITIATIVES
The Port of Gulfport is committed to responsible environmental stewardship and protecting the seaside community of Gulfport. By optimizing the management of resources, focusing on sustainability and the preservation of coastal ecosystems, the Port is continually striving to reduce the environmental impact of its operations.
The Port of Gulfport has developed, implements and maintains an environmental program that:

Fosters employee, tenant, and community awareness of the importance of environmental stewardship.
Complies with all environmental laws and regulations.
Continually works to improve the quality of life of our surrounding community by defining and establishing environmental objectives, targets, and best management practices while also improving our environmental performance under the Green Marine certification program.

Engages in conversations with the community and employs responsible and sound methods of pollution prevention.
The Port of Gulfport is undertaking concrete and measurable actions to not only meet environmental standards but exceed them. In order to conduct operations in the most efficient and environmentally sensitive manner, the Port is implementing the following green initiatives:
EMERGENCY PREPAREDNESS
The Port of Gulfport maintains comprehensive emergency management plans for a wide range of events including hurricanes, terrorist attacks and hazardous material spills.
The Port of Gulfport works closely with U.S. Customs & Border Patrol, U.S. Coast Guard, and the City of Gulfport Emergency Preparedness Department in order to respond effectively to potential threats and disasters..
Below are links to various agencies which provide information for emergency circumstances that may affect South Mississippi or the surrounding Gulf Coast area.
Below are links to various agencies which provide information for emergency circumstances that may affect South Mississippi or the surrounding Gulf Coast area.
MEDIA
The Port's External Affairs team is ready to help you get the information you need for your story. Any questions should be directed to our Media & Marketing Manager.