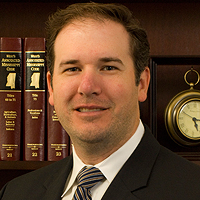 Gov. Reeves Appoints Cowles Symmes to MSPA Board of Commissioners
FOR IMMEDIATE RELEASE
Wednesday, November 17, 2021
Gulfport, Miss. – Attorney Cowles Symmes will be sworn in as a member of the Mississippi State Port Authority's (MSPA) Board of Commissioners during its November 18, 2021, board meeting. Appointed by Governor Tate Reeves, Symmes will replace Jack Norris as one of the three commissioners appointed by Mississippi's Governor and will fill the remainder of a five-year term ending December 1, 2025.
"We welcome the expertise of Mr. Symmes and his commitment to growing the Port of Gulfport," said Jon Nass, Port CEO and Executive Director. "His background in representing a wide variety of businesses and personal clients will be helpful in our discussions with future tenants, ensuring we can continue to attract new businesses to Gulfport."
The Mississippi State Port Authority is governed by a five-member board of commissioners that represents a cross-section of Gulfport and Harrison County. Appointed to staggered, five-year terms, three commissioners are selected by Mississippi's Governor, one by the Harrison County Board of Supervisors and one by the City of Gulfport. The Commission sets policy and oversees major expenditures for the Port of Gulfport.
"I am honored to be appointed by Gov. Reeves to serve as a commissioner of the Mississippi State Port Authority," said Symmes. "As one of the most diversified ports in the country, the Port has a solid foundation with current tenants and tremendous opportunity for future development. I look forward to working with my fellow commissioners and Port staff to build a stronger maritime economy for Mississippi."
Symmes' first Commission meeting will be Thursday, November 18, 2021. The MSPA Board of Commissioners typically meets on the fourth Thursday of each month at 1:00 p.m. at the Port of Gulfport's Administrative Office on the 14th floor of the Hancock Bank Plaza, located at 2510 14th Street in Gulfport.
###